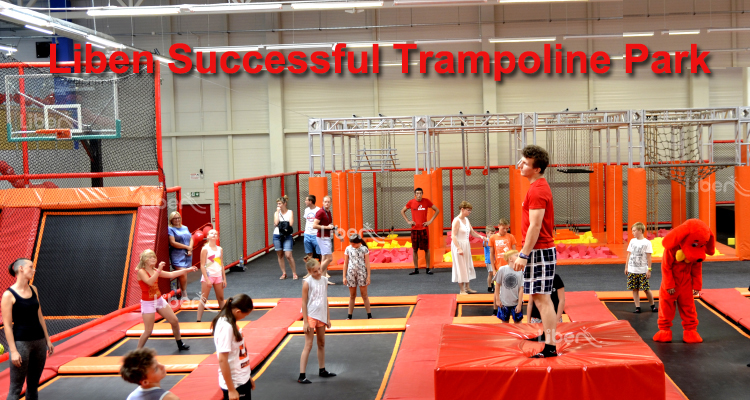 Product Description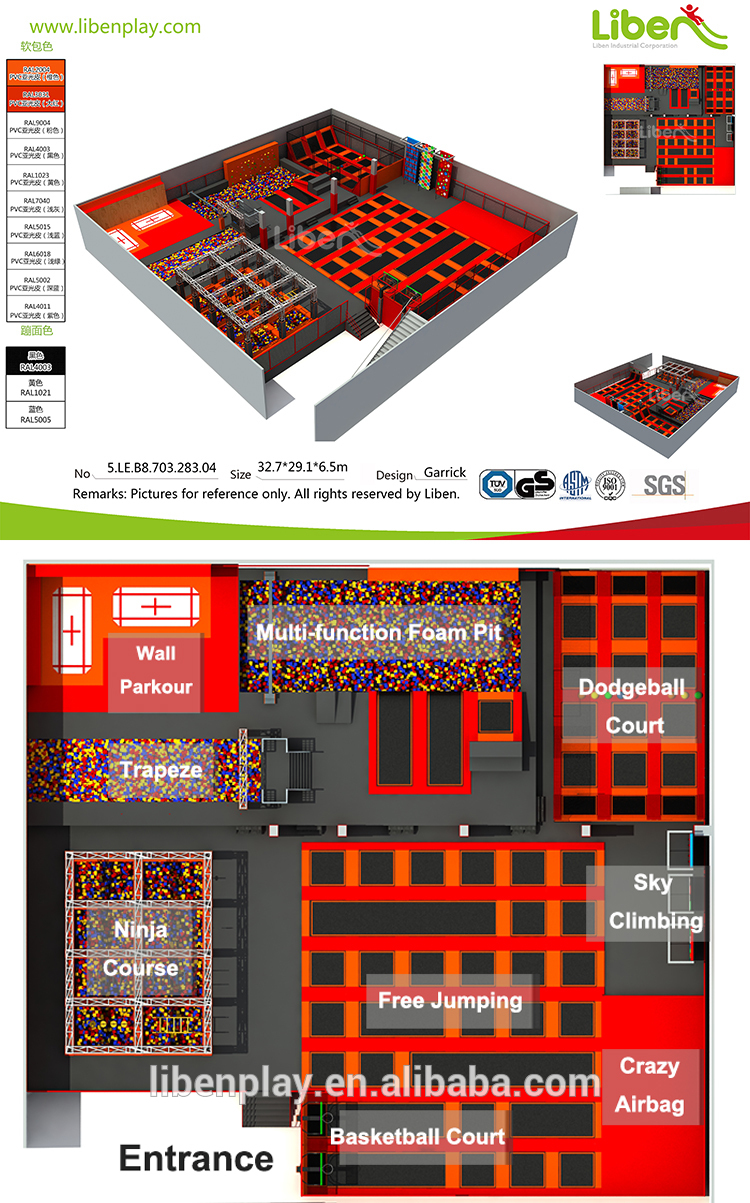 Liben 950sqm Indoor Trampoline Park in Poland with Air Bag, Indoor Climbing Frame
Model No.:5.LE.B8.703.283.04
Park Size:32.7*29.1*6.5m
Recommended Ages:Above 5 years old or as long as you can walk and jump without any heart diseases.
Apply for Commercial Indoor Play Centers, Shopping Malls, Sports Centers, In Amusement parks, ThemedParks, Super Mall, etc.
Description of Liben Trampoline Parks

Certificates

ASTM, GS Certificate from TUV,ISO14001, ISO18000, ISO9001,

Structural Frames

80*80mm Galvanised Steel Pipes

Jumping Mats

High Quality PP, different colors available

Springs

18cm long, Galvanised Steel

Safety Paddings

7cm thickness EPE inside, soft and stable.

Smart shapes enables easier transportation, installation and maintenance

Vinyl Cover

0.46mm thickness PVC, anti-UV, strong and not easy to loose shape

Safety Netting

Polyester, Strong and Safe

Installation

CAD drawings+ 3D installation manual+Professional Instructions, which makes the installation very easy.

Professional and Experienced Installation Team is also at your serivce
Packaging Shipping
1) Nice and clean warehouse to organise all the goods.
2) Record by our cameras
3) Experienced Loading Team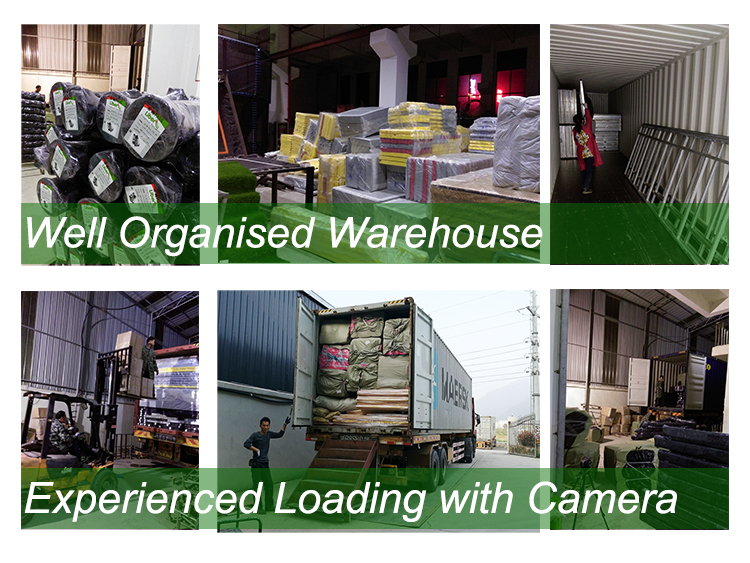 How to order
How to Order Liben Trampoline?
Step 1.Send us your site CAD plans and photos of the building surroundings.We pay great attention to the accurate designs.
Step 2.Tell us your detailed requirements, or we could help you find out your needs(discussing with Liben Sales Manager Sherry)
Step 3.Design Revision
Step 4.Placing the order (We accept T/T, L/C, and alibaba trade assurance)
Step 5.Production
Step 6.Shipment
Step 7.Installation (You could reserve our engineers while placing the orders and we will help you arrange engineers visas to avoid your troubles)
The whole process will take around 2-3 months, so it's important to tell us your Opening Plans.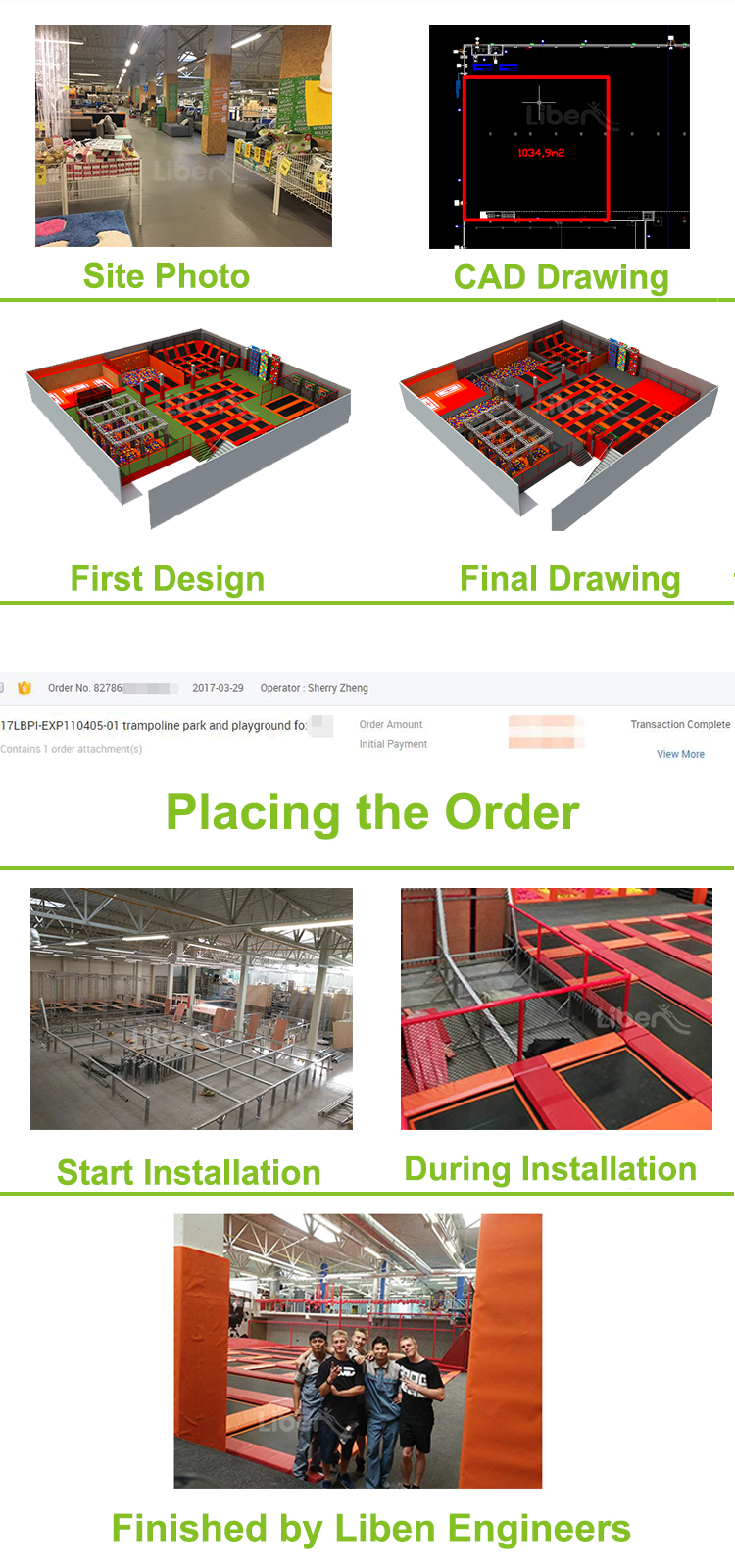 Liben Standard Production Procedures
1) Spacious and clean 20,000sqm 5S workshop with advanced machines.
2) 80+ experienced and diligent workers cherishing great senses of responsibility.
3) 25 x 40ft containers per month large volume production capacity.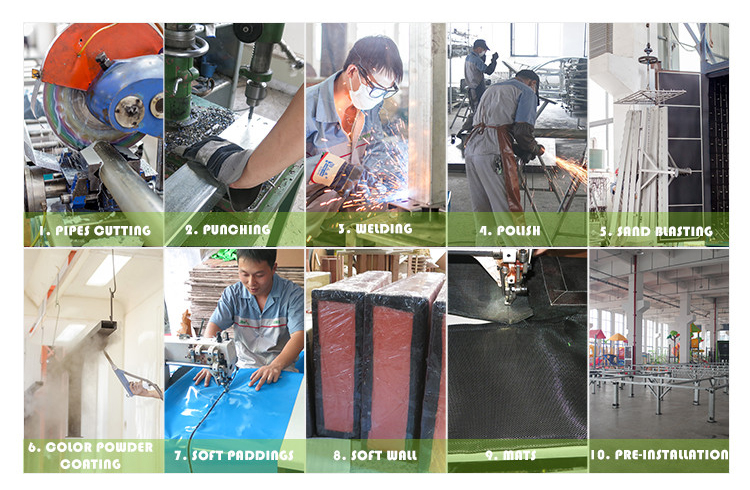 Liben Various Certificates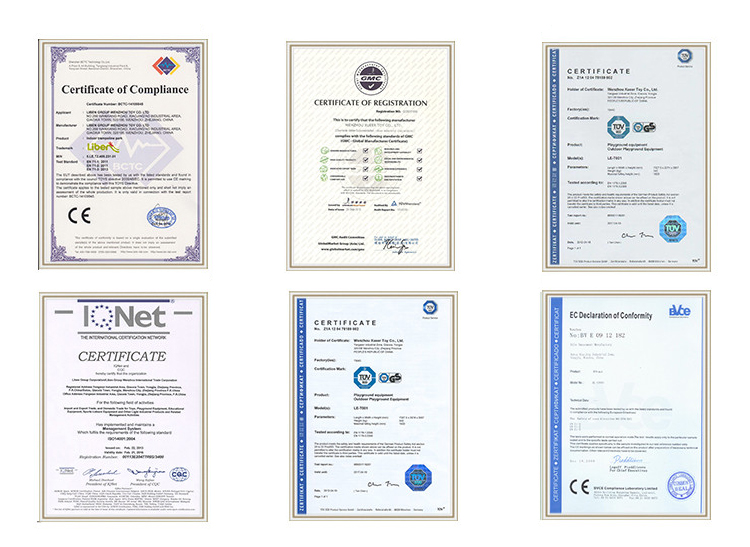 Liben 300+ Successful Worldwide Projects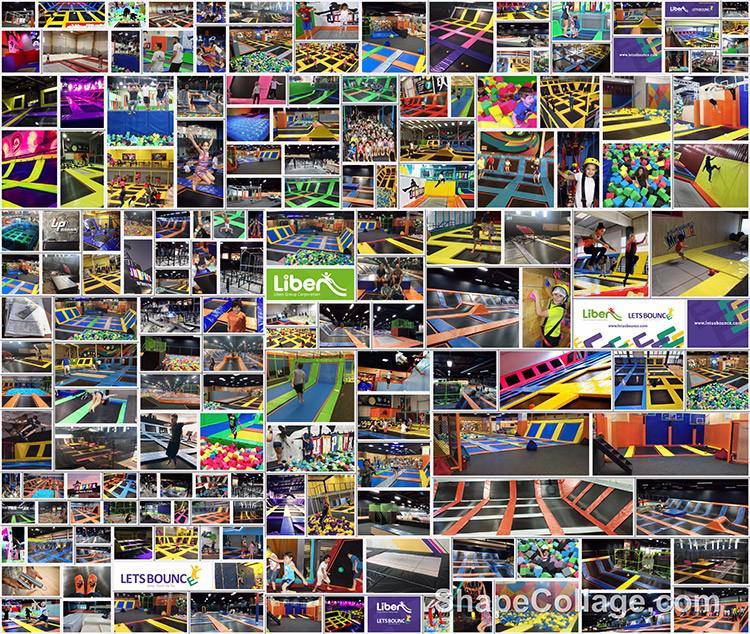 Related Products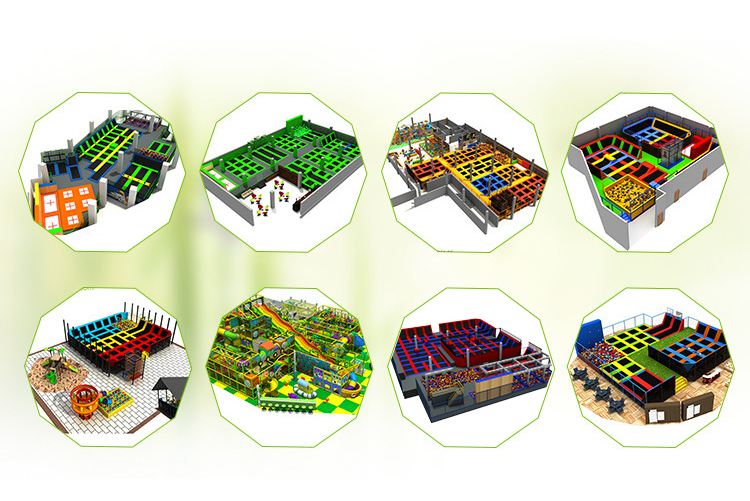 Why Choose Us
**Superior Quality:Our products are meeting and geared to International safety standards, which would reduce many potential issues to open an indoor play park.
**Rich Experience: We have built 300+ trampoline parks over the world and assisted customers from over 40 countries to build their play centers successfully, so that we have accumulated rich project experience and market information.
**Up-to-Date R D: With up-to-date innovation and constant improvements, we aim to provide the best solution for each customer to run a successful business.
**Attentive Services:
1) We offer professional and prompt one-stop consultant services.
Liben Sales are always polite, patient, helpful and easy to communicate;
Customer benefits always go first
2) and GUARANTEED after-sales service.
You could always get an answer or solution if any problem occurs.
Thinking this is not important? Are you kidding me?!
This could save you thousands of dollars for maintenance!
3) Free Design Service
Creative design+Expert Layout Plans, the basic step to build a successful business.
4) Detailed installation manuals (2D+3D drawings+professional instructions)
Liben installation team is very professional and experienced to travel around the world to install.
Our engineers have got USA, Canadian, European Visas, so you don't need to worry about visa problems.
**Good Feedback and Guarenteed Transactions:
In this era of Big Data, self-bragging is no longer working, as the date itself speaks.
We are proud to present the following real transaction data from Alibaba to our dear customers.
In the trampoline park industry, we are confident to state that we are:
YOUR FIRST AND BEST CHOICE.

The Secrets of Liben Trampoline Parks
There are lots of trampoline park suppliers on Alibaba, with similar descriptions or similar projects, however, there aren't many real manufacturers.
Among the real manufactuers, we have our own secrets to make our trampoline parks special.
Frames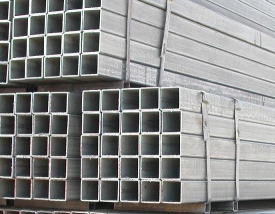 We use superior quality galvanised steel pipes, and our metal frames and structures are tested according to and meeting with ASTM and GS certificates standards.

It is the base of building a safe trampoline park, and we always give priority to safety, unlike the small factories who only seek for the lowest costs.
Mats

We use high quality PP jumping mats in our trampoline parks. 99.9% of the Chinese Trampoline Park suppliers who claim they are using USA imported jumping mats are NOT true, which is also made in China.
We are 100% honest to our customers and we are confident that we will make the Trampoline park nice and up-to-world-class with all the "made-in-China" materials.
There are 2 different types of jumping mats for your choice according to the needs, one is the normal type and the other is the professional type (the white one)
Springs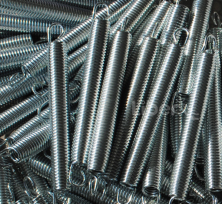 While the metal parts are the Body of a trampoline park, the springs are the Soul .

The very essence of a successful trampoline park with excellent bounce feeling is the performance of the SPRINGS.
Liben has done many tests and finally invented this type of springs which just work perfectly when you bounce.
Customers are very happy with their bounce experience in our trampoline parks and glad to return so as to run a long-term booming business.
How Liben Customers Say:
1. Good Quality Products, Easy to Set up
2. Professional and Easy to Communicate
3. Trustworthy Supplier
4. Highly Recommended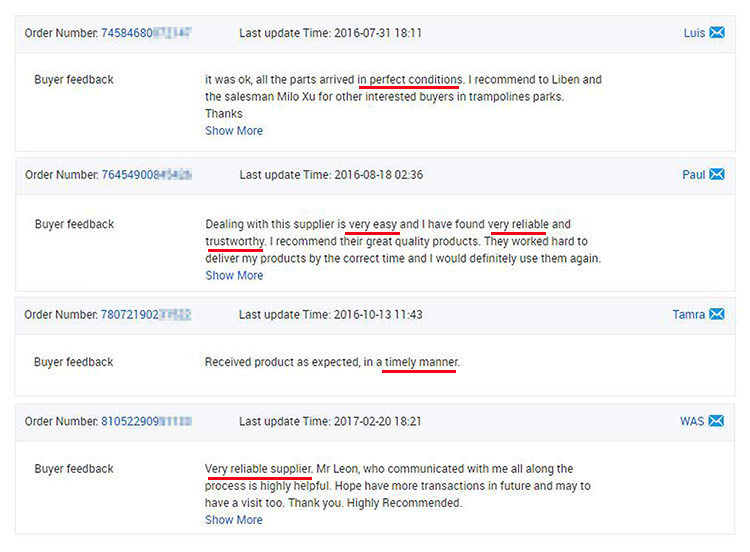 FAQ
1. What service does Liben offer for creating trampoline park?
2. What safety standard does your trampoline meet? Do you have any certificate for the materials you use?
3. What will my park cost to fit out? Or what cost should be included in my budget?
4. How much space do I require to operate a trampoline park?
5. What should I provide if asking for custom design for my park?
6. Is it easy to install the trampoline? Do you offer installation service outside China?
7. How long does it take to build the park?
8. Do you provide any ancillary products for trampoline park, such as trampoline socks?
9. ******************
Contact
Share
Welcome to our website! Please feel free to send us your questions by asking us, we will contact you and provide you with the services as soon as possible. Please write in English.